It's conference season in the world of student affairs, and we're excited to bring you some of the best information for navigating them this year.
Between NACA, ACPA, NASPA, and ACUI (just to name a few), there are endless opportunities for new connections and communicating best practices in the world of higher education. For students, this is the season to apply to graduate school,  internship programs, and full-time jobs. For career switchers, it's time to prepare resumes and cover letters, and get ready to chat about transferable skills.
Whether you're looking to build your network, searching for a new job, or practicing those presentation skills, preparation is key! We've compiled the ultimate conference guide to prepare you for any conference you attend.
Create

a Schedule

Be proactive.

Choosing sessions ahead of time will help you and your student affairs team avoiding scrambling on the first day of the conference. Divide up sessions among your team so you're not doubling up your efforts, unless you're looking to implement a new initiative.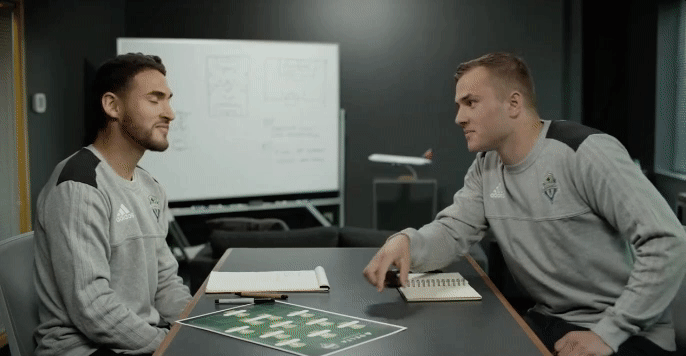 Plan your days around the sessions you're most excited for and prepare to be flexible. Sometimes sessions are cancelled last minute, so make sure to select backup sessions.
Research the speakers or presenters ahead of time. If you have the opportunity to connect with them before the session you'll avoid the long line of people lining up after presentation.
Don't assume you'll have time after you arrive to the conference to plan your whole schedule. Take time to scoop up pre-conference swag, get in on the early networking scene, and meet up with past colleagues or co-workers. And of course, use any app to your advantage.
@The_SA_Blog A1: Apps like Guidebook are super helpful for being strategic in creating a conference schedule. #sachat

— Kathryn LeConey, MS (@KathrynLeConey) February 11, 2016
Take time

for yourself

Conferences can be overwhelming. So, take breaks. Realistically check-in with yourself about your needs.

When not attending a session, here are ideas on to how to spend your time:
Get room service.
Get some fresh air.
Take a power nap.
Go for a run, take a leisurely stroll, or check out the workout area.
Check out the hotel lobby, snack area, or outside territory.
Catch up on e-mails, network, or do homework.
Here's what #SApros have to say about conference self-care:
A5: Just having my own bed in a quiet hotel in a fun city is self-care for me! Shout-out to all the #SAParents! #SAchat — Crystal Kitten (@crystaldkitten) February 11, 2016
A5. I take time away when I feel myself getting cranky. Also splurging on a single room if possible. #sachat — Alison R.C. Scheide (@arcscheide) February 11, 2016
FT: when you're tired, go to sleep. At one point during ACPA I dropped my Popsicle and got overly sad. It was 12am and time for bed #SAGrad — Amanda✨ (@Amanda_Learning) January 25, 2016
A5: I check to see if my hotel has a gym, make sure i get at least one meal to myself, and bring board games to play with friends. #SAchat

— Kari Jo Freudigmann (@KFreudigmann) February 11, 2016
You're an adult, and you're not breaking the rules. You're taking care of yourself. The world won't end if you miss a mixer or a session.
You're in a new environment with shared energy. Do what you need to do to get yourself on your A-game.
Try not to stress about work during the conference. Set realistic expectations about what work you can actually accomplish (or not) during the conference.
And make sure students and staff back home know that your availability will be limited. Don't forget to write your best out-of-office reply e-mail.
Are you a first-time conference attendee? Check out this awesome article outlining self-care tips from Samantha Perrin called 5 Tips for Navigating Conference Season as a First-Time Attendee.
Network
Before the conference even begins,  spend time connecting with other attendees on social media via the conference hashtag. If you're going to the conference solo, you can even find someone who lives nearby to meet up with beforehand! That way you won't feel completely lost during the conference itself.
Q4: As someone who is a bit slow to warm up, I 'network' or 'branch out' with a buddy that I know. #BeMySecurityBlanket #SAchat — DMarie (@DMarie2484) February 11, 2016
Update your business cards and don't forget to bring 'em! They can be a conversational lead, too, if you find yourself stuck mid-conversation.
Prepare an elevator pitch. It doesn't have to be longer than 30 seconds or a minute. Write it down and add some flair to it. It's your introduction to other attendees and should highlight two or yhree skills you believe are critical to your career path and set you apart in the job search. It's great to have a pitch ready to go in your pocket so it can be delivered at any time.
Here's an example:
"This May, I'll be graduating from University of South Carolina with a master's degree in higher education administration. Last summer, I had a great ACUHO-I internship at Macalester College ,where I had the opportunity to put what I learned in the classroom into practice. I was responsible for supervising 10 undergrads while co-organizing a diversity course for the fall. Right now, I'm looking for an entry-level position where I can further develop my skills in living-learning communities focused around issues of social justice."
Instead of trying to be witty or interesting all the time, concentrate on active listening, exchanging business cards, and remembering conversations.
What are people looking for out of your new relationship/connection? Ask and write it down on the back of the business card!
Do your online homework. Look up speakers, then try to find out more about their background. What if you run into them in the bathroom or elevator? If that happens, you'll be able to pick their brain while making a meaningful connection.
Find out if you share common ground with other conference attendees in advance. Try to work these things into the conversation without giving off a "I-already-know-everything-about-you-because-of-social-media" vibe.
Be in the present moment. Balance the time you're looking at your phone with being mindful of those around you. Some people connect with others better in person.
If you're not like that, try to connect online first and follow up later. Your phone or technology should not become between you and a new connection; it should only help deepen a potential relationship!
Make plans with one "expert" or role model you have in the field. Via email, Twitter, or LinkedIn, reach out to someone in the field whom you've always wanted to connect with. Prepare for an engaging conversation with a list of a few questions or things you'd like to learn from them.
It could grow into a great relationship… or at the least a professional connection. It's okay to be nervous! Remember, they were probably in your position once, too. People will certainly think you're a mover and a shaker if you've pre-planned meetings with others.
Engage via

social media

Interact on Twitter and use the conference hashtag. Typically these are listed on the website or on the conference's main twitter handle. Start using it well in advance:
"Who's going to #ACPA16?! It's my first time in Montreal!"
Try to get your avatar or profile picture to match what you actually look like as best as you can. Don't make it hard for other people to find you when you're trying to connect in person after an awesome online conversation.
Student affairs professional Craig Bidiman teamed up with StudentAffairs.com to bring some awesome conference videos, during one of which Craig chatted about Twitter and Tweetups!
If you're a top tweeter, tweet out presenters' best points during sessions. It will be hard for people to ignore you. Optimize the Twitter network at conferences by reading other people's tweets, re-tweeting what you agree with or enjoy reading, and connect afterwards in person.
If you're not one to put yourself out there during sessions or would rather take notes on paper and tweet later, tweet something like,
"Taking notes now on Sierra's presentation at #NASPA16. Will post later!"
You'd be surprised how many people will follow you or direct message you to chat about the session you attended. You don't have to be extremely extroverted to incept yourself into people's memories at the conference. As long as you're genuine, people will remember you and will think of those interactions when communicating online.
Learn more about the impact of social media, technology, and utilizing it at conferences from Paul Brown:
Connect

with vendors

"Vendors are just going to try to sell me stuff."

That's true… and not true. Of course, they're looking for new clients. But they're also people and professionals who want to attend the conference. In fact, a good portion of them attend sessions in order to stay up-to-date with trends in student affairs and higher education.

Vendors can be a great resource if you network with them the right way. Think about this: Vendors have access to a mountain of information about institutions just like yours. Get to know them and ask questions about trends, challenges, and obstacles they see in the field.

A lot of vendors also had awesome undergraduate involvement experiences or were past student affairs professionals who found their niche in the corporate higher ed field. They may even be hiring!

Here are some questions for the next time you swing by an exhibitor hall:
What problem does your company solve? Why was it started?
What is your most popular product or service? What does it provide to different types of institutions?
What is one of the most interesting ways you've seen an institution use your product or service?
What made you choose to work with your company?
What other conferences do you plan to attend? What's your favorite part about attending conferences like these?
Be a great

presenter

So, you've received the amazing opportunity to present at an upcoming conference. Congrats! This is the kind of opportunity that can really propel your career forward in student affairs. But you're getting sweaty thinking about speaking in front of a room full of peers and industry leaders.

Even if you've already given many presentations before, you'll want to feel great after presenting this one. You can always learn something new or tweak your speaking skills to capture your audience. Don't let your hard work go to waste by delivering a less than interesting presentation.

Involve your audience. Start with talking about something that is going on at the conference, have them introduce themselves to the person sitting next to them, or ask an engaging question. Try to keep the energy high and connect people within your presentation. For example, if someone makes a comment during the presentation say something like,
"Thanks so much! That is a great comment! I've had that happen to me too. Who else has had that happen?"
Keep your presentation positive and encourage people to participate. It creates for a dynamic, memorable presentation. And encourage attendees to live-tweet in order to share information far beyond the walls of your presentation room.
Entertain your audience but not at the risk of miscommunicating your content. Use humor, have fun and get people moving. But remember the people are going to connect most with the content overall.
Look to develop more confidence in your public speaking skills this year. Check out this TED Talk from Caroline Goyder on the surprising secret to speaking with confidence:
Optimize

your learning

With some interesting sessions offered at a conference,  it can be hard to choose the right ones for you.

Divide and conquer. If there are multiple sessions offered at the same time that you don't want to miss, try finding a conference buddy and attending sessions you're mutually interested in. Find people on the session hashtag, make an introduction, and set up a time to converse later.

Be an attentive attendee. Before you attend a session, take a good look at the session description and target audience. If you're a graduate student attending a session directed towards senior student affairs officers, you may want to learn about a future career path.

However, don't attend a session just to fill free time. Make sure you're invested in learning and listening.

Introduce yourself to the people around you. Most likely, they are from institutions different from your own and can offer a diverse perspective on the topic at hand. It's an easy way to network and introduce yourself to new people. At the end of the session, compare conference notes and ask them about their biggest session takeaway.

Adapt, don't adopt. We couldn't have said it better in 140 characters, Dan Taylor.
FT: Not everything you hear about at a conference will fit your institution. #Adapt it, don't #adopt it #sachat

— Dan Taylor (@DanMJT) February 11, 2016
Even if a program looks nice and shiny at another institution, it may not be the right fit for yours. Campus culture, institutional layout, and professional partnerships look different at every institution.
Before creating a dream, bring it back to your team and ask if and how a program can be implemented. Create a realistic plan of what it might (or might not) look like at your institution.
Connect

later

Take some time to decompress and relax when you arrive back home. But don't forget all the magical knowledge-sharing that just occured!

The few days after the conference is prime time to follow up with people you've met and information you've gathered.

Take time for some networking housekeeping.

You may have already connected with some folks via Twitter, so make sure to follow up with them via email, snail mail, or LinkedIn. Include a personal message with each one. Make sure you highlight something you chatted about. (Those notes on the back of the business card will be helpful right about now!)

If the conference has a LinkedIn group, post relevant content after the conference to continue any missed conversations with attendees.
#FT – The networking is only as good as the conversations that happen after the conference. #sachat

— Steven Yeagley (@StevenYeagley) February 11, 2016
The insights and information you've gained from the conference will may be extremely valuable to the rest of your team. Ask your supervisor for the best time to pass on everything you've learned. It could be a quick session at a meeting in-person or information available on a Google doc to have team members follow up on with you later.
We hope you make the most of your conference experience and teach others about your time there. Be the best version of yourself you can be and have fun with it all!
If you're a conference expert, you probably have a short list of your own conference tactics or tips. We'd love you to share your tips, tricks and tactics with us on Twitter @HelloPresence!