I'm an anxious person.
My mind is usually going 100 miles per hour. And when changes take place that I'm not in control of, my thoughts flow even faster.
With grim forecasts about the future of higher education — including declining enrollment numbers, and decreasing trust in the value of a bachelor's degree — institutional shake-ups may soon be a common fixture at most colleges. Your institution may soon face major change… if it hasn't already.
I've only worked in the field of higher education for six years. Yet, in that time, I've seen budget cuts and restructuring at all three of my institutions. My first position was eliminated due to budget issues, I left an institution in the middle of restructuring and budget cuts, and I've had a position luckily survive a university-wide budget cut. Even though I've seen it three times, it's still hard to deal with.
It's unlikely that institutional change will be going away. As a person with generalized anxiety disorder who has had to cope with institutional change so often, I've learned some coping skills are extremely helpful. Here are my tips for navigating it.  
9 Tips
1. Take Care of Yourself
If change makes you anxious, be sure to participate in and make time for activities that make you feel good. You can rely on your favorites or try new things, as long as they help you feel less stressed and more resilient. 
I like to find meaning outside of work. For example, I prioritize visiting my nephews and spending time with friends off campus. I knit almost all the time and have gotten involved with the local knitting community. 
If you need a new idea, you can exercise, read a good book, breathe deeply, make arts and crafts, get enough sleep, eat more vegetables, and participate in any other behaviors that make you feel your best. 
Institutional change is going to be stressful no matter what. But activities like these will help build your resilience while you navigate it.
2. Support Those Facing Job Loss
When my position was eliminated due to budget cuts, my supervisors made sure to give me in-person updates as soon as they could. They offered support in finding my next role by reaching out to their professional connections on my behalf and serving as glowing references.
If you supervise someone who has been affected, you can take steps like these to help them continue on in their professional journey.
Although institutional change can lower morale all across campus, it's important to center those who are directly affected by job loss. If you don't supervise such folks, you can still support them by checking in. If you hear someone's job will be cut and it's public knowledge, let them know you are thinking of them. Ask if you can connect them to your colleagues at other institutions who may be hiring.
3. Plan Ahead
Keeping your resume updated is always a good idea, and it might be even more important to have a fresh copy if your institution is going through big changes.
Proactively updating your resume can take some of the edge off if you end up needing to start a new job search. Connect with colleagues outside of your current institution for help looking it over. Or consider hiring a resume writer to give your materials extra polish.
You can also consult with a colleague or friend in career services. They can help you articulate all the awesome things you do in your current role. One of my best friends works in career services and she has amazing advice for how to re-envision my resume for other on-campus jobs or even jobs outside of the field of higher education. 
4. Don't Gossip
Sometimes a little office gossip is a harmless way to bond with colleagues. But, institutional change affects people's livelihood in ways that can be quite traumatizing.
Don't spread rumors. It's best to wait to discuss changes with your work friends when they are confirmed publicly. It's also good to check-in directly with those affected. Simply telling them, "I wanted to let you know I've been thinking of you," can help them feel supported in a trying time.
When someone is affected by institutional change in the form of them losing a job or pay, it can be salt in the wound to learn that their trusted colleagues have been gossiping about them.
5. Find Support Off-Campus
While work besties are the literal best, talking with them about the changes happening in your workplace might make you both extremely anxious. 
If you find that you cannot avoid debriefing, consider talking with someone who does not work at the institution, such as a mental health counselor, a faith leader, a parent, or a spouse. 
Connecting to support networks off-campus can give you important perspective and support.
If you don't have good in-person support options, try finding support online. Facebook groups can allow you to connect with others across the country who have dealt with institutional change. Or if social media isn't your thing, consider talk-therapy apps like Talkspace or BetterHelp.
6. Take Advantage of Professional Development
If you are concerned about having to find a new position, take advantage of any professional development opportunities you can find.
See if your human resources department or another campus office hosts educational activities or programs for staff or faculty and consider signing up. For example, my institution hosts Grow classes on all kinds of topics, like learning how to use Qualtrics or how to write grants. 
You can also check out events in your local community. See if any professional groups have upcoming opportunities. Or, consider if volunteering for an organization or network would give you valuable experience. 
These experiences can help your resume stand out if and when you need to job search.
7. Recognize Any Upsides
It's important to remember that even if your job is cut, you have probably been given an amazing network and developmental experiences that will help you land on your feet. 
If I had not been budget cut from my first grad position, I would not have gained experience in violence prevention, which turned out to be my perfect fit for a full-time role.
Recognize that having the credentials and experience to have a job in student affairs is a privilege and that it will help you find another role. Remembering this has helped calm my anxiety when I've witnessed institutional change.  
Of course, if you don't have these privileges, you might not be able to recognize any upsides about a job loss. If you can, it might be helpful to practice gratitude within other areas of your life.
8. Communicate with Your Staff
Even if institutional change doesn't affect your staff's employment status, they might still have concerns about how ripple effects might impact their day-to-day. It's important to give your direct reports as much information about upcoming changes as possible. This will build trust for your team and help them feel like they are standing on solid ground, even if things seems shaky elsewhere.
If you have a feeling that institutional change will impact any of your staff members directly, be open with them. Let them know you have concerns about how this could impact their position and offer to help them with the transition.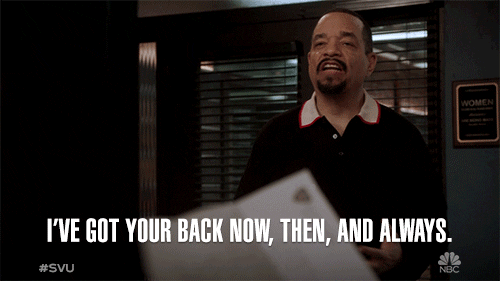 Any time you can job search while you still have a job is better than job searching without one. If you have contacts at other institutions who are hiring, you can connect your team members for them. And you can call hiring managers whom you know and give warm recommendations for your staff.
Whether or not your staff will lose their positions, it's key to be as transparent with them as possible, even if you don't have new information for them.
9. Consider Students
While we may think we are sly enough in discussing institutional change to keep students from noticing it's happening, some students will surely become aware anyway.
Consider how you'll explain what is going on to students so that they can understand the complexities of restructuring. 
Plan how you want to discuss this with student staff so their trust in your office and the institution isn't shaken. You can update them one by one, or have a professional development staff meeting to talk about the changes on campus and how they fit within national changes in higher education. Answer any questions that you can, but also be honest about what you don't know and what you can't share and why you can't share it. 
While we can probably never fully silence our fears when institutional change occurs, I hope these tips can help you keep focusing on serving students while riding the waves of change.
How have you navigated institutional change? Any tips to add? We'd love to hear from you @HelloPresence.