When I went paddle boarding for the first time with the Check I'm Here team I had no idea what I was doing.
Some people on our team naturally got the swing of it while others took a bit longer (like me). I knew that I would be anxious if I was the last to grab a paddle board, so I decided to face my fears, grab a board, and remembered that the worst thing that could happen was that I would fall and get soaked.
I was slow at first and eventually saw the shallow area where our whole team was headed to hang out. I was thrilled at the fact that I was actually paddle boarding, yet I was nervous I wasn't actually going to feel comfortable being in the open water.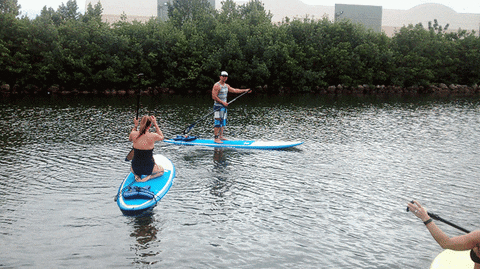 I imagine figuring out how to effectively create a marketing distribution plan for an event or organization could feel the same way.
Starting any project from square one can be exciting and a bit overwhelming. You may have an idea of what you want to do, you know you have a good chance of success with support from others, but you're unsure of the process.
You can write great content: blog posts, memes to Facebook or Twitter, or even assessment infographics to show your audience comparisons. All of this is great, but without a distribution plan it won't get you far in terms of reaching your audience.
Before we've shared the different aspects of successful events, from creating an event to building a foundational assessment plan and covering the science behind engaging students.
Now we're excited to share a step-by-step plan to help you get started distributing content and engaging with intention.
1. Compiling Influencers
Students are more likely to attend a program if it's recommend by a friend rather than if they're asked by a student affairs professionals to participate.
Compiling influencers is a key foundational piece in distributing content to reach specific audiences. What is an influencer exactly?
According to TapInfluence, influencers are people who inspire others through their work. In some way, they provide value and connect with people on the most basic level: raw feelings, emotions, or part of an unique niche.
They have an authentic image both online and in-person. Smith explains,
"Influencers are self-made success stories; people who turn their creative outlets into beacons to rally others around. They pour personality into their work. People are drawn to them because they can relate."
Recruiting influencers opens opportunities for you to amplify content, connect with students and build relationships more organically and directly without feeling like you're calling upon the same students to attend events all the time.
Wondering how you're going to keep track of influencers?
Find all of your influencers who are on Twitter and collect them into a list. It's really that simple.
Twitter lists can be private or public.
Example:
We put together a quick, public twitter list of all the members of the Presence team to show you how easy it is to set up a list.
Give the list a follow if you'd like!
Most marketing – campus flyers, advertisements through campus screens are traditionally aimed at all students. The concern with this approach is that students don't feel they're being directly invited to participate. Nowadays students are over-marketed, often causing them to ignore things like flyers and/or they are more concerned with what is being communicated via their cell phone.
Utilizing influencers to distribute content and get the right crowd on board for your event or organization is ?.
2. Choosing Social Platforms
It's hard to remember that you don't have to be on them all, just the social networks that matter when communicating with college students.
The best way to start understanding which platforms to use is to ask your students or observe where the conversations occur online. You can ask them in a few ways – via a Twitter poll, Presence form, a whiteboard with options in your office, or simply go around the dining hall and ask them face-to-face. There's value in getting answers directly from students so you know where you're best using your time.
Each network is unique, with their own styles, types of images to use, and tone of voice to convey. A great idea would to call upon the influencers you already listed and ask for feedback on your digital reputation or 'digital brand'.
A good social media strategy does not have to be a difficult one. Departments or organizations don't have to be on all social networks. It's helpful to step back, assess where students interact most, and tackle just a few.
Example:
As a team, we feel connected to our community and we want to show our social media friends, fans, and followers the pride we have for it. This Facebook post received high engagement from our audience:
When we distributed the article on Twitter, it only received one retweet.
Why is that?
Interacting on social media is all about engaging with individuals and knowing what they're looking for. What works on one social media platform, will not work on other social media accounts.
So while we posted these to both Facebook and Twitter platforms, our local fans and people who are part of the close-knit community or current campus partners engaged with this post the most. On Twitter, this type of news does not directly impact our audience, therefore, not as many engagements.
3. Selecting Engagement Tools
It's important to find your distribution strategy: one grounded in consistency.
When I'm planning out relevant content, engaging in conversation, and look to build our audience I often look to these top tools:
Buffer
Planning 30+ programs for the month of April already? Pre-schedule tweets and get your to-do list done early.
Our CEO originally introduced me to Buffer and I fell in love. I had tried other social media scheduling platforms and Buffer seemed to fit well for us. Buffer is a great scheduling and analyzing tool for all types of organizations and sizes that allow you to organize social media platforms like Facebook, LinkedIn, Twitter, and Instagram all in one place. You can use the free version or opt for the monthly version that includes more features.
Example:
One of my favorite things about Buffer includes the 'optimal scheduling' feature. 
This feature helps us identify what time of day our audience is most active.
I tend to experiment with anywhere from 3 postings a day to 7 postings a day to understand how our audience engages. Right now, we're experimenting with around 5/day.
Why use it?
Buffer can help you identify how to reach students in various audiences. For example, you may start to notice that students may be more active online between the hours of 10pm and 2am rather than the early hours of the morning. Maybe your off-campus population is more apt to check social media between 8am and 10am and find the on-campus population checks platforms closer to lunch.
Scheduling important announcements out at relevant times with Buffer will help you understand where to focus your efforts.
Tweetdeck
I have always used Tweetdeck as a form of social listening and interacting with our audience. Instead of searching for individual hashtags on Twitter, it's a great way to look at conversations in real-time, side-by-side.
Example:
Instead of using the '#sachat' or '#satech' hashtag like we show above, maybe you have a campus hashtag and want to distribute content to your audience there. Ultimately, you will want to use hashtags that are relevant to your audience. Compile a list of hashtags via a Google Doc and ask your influencers to contribute their ideas.
Why use it?
Tweetdeck allows you to 'listen socially' to your audience and understand which hashtags are most active. It's free to manage multiple twitter accounts and can be used as both a desktop application or via a Google chrome browser.
Presence
Presence is an engagement platform that optimizes your marketing distribution plan and reaches students via mobile.
This student engagement platform integrates with existing student life social media and streamlines communication for both advisors and students when creating and managing campus life events.
Example:
Adams State University utilizes the Presence platform for event management, monitoring student involvement, and using real-time data analytics to understand how to best reach students and inform campus programming.
Presence offers integrations with various APIs (application program interface) which makes it easy for colleges and universities to on-board and use the engagement platform among multiple student life departments.
Adams State uses an API to push Presence events to their main website. If a current or prospective student goes to their website, it will lead them to the Presence platform where they can browse a plethora of campus organizations and find events that align with their personal interests.
Already an existing campus partner? Reach out to our Happiness Team and ask about new integrations. Interested in seeing what Presence can do for your campus? Reach out to our Engagement Specialists and schedule a free demo.
4. Engaging with Intention
It's awesome that you now have a beginning point to create your marketing distribution plan from scratch.
One of the most important aspects of starting the conversation via these methods of communication is continuing it.
NASPA recently published an article Social Media and Student Affairs: Designing a Plan That Works about social media and online engagement. Written by Sharla Berry, PhD candidate at the University of Southern California, Berry pushes us to reflect on our online engagement,
"While getting 'likes' is important, to be effective you need more active engagement.

How do you want students to engage with your social media?

Do you want them to comment or take offline actions?

Do you want students to post content or comment on posts?

Do you want students to come to events?

Will you be sharing or reposting students' online content?

Will you give rewards to frequent student users?"
Example:
Timing matters. Any time we have a community member or client reach out to us via Twitter, Facebook, or LinkedIn – really all platforms – we do our best to get back to them right away.
@knewt14@stark_sarah Thanks for the kind words, Kim! You're a rockstar ✨? -Kayley

— Presence (@HelloPresence) November 15, 2016
Have you ever responded to a company on Twitter and they didn't get back to you? We try to mimic IRL (in real life) conversations, minus the emoji's, and we noticed responding quickly helps us build strong relationships with our audience and campus partners.
Your Thoughts!
Developing a social media strategy means taking the time to engage with your audience and users to truly understand what they're looking for – fun content, helpful or useful content, or maybe you need to hold a scheduled online chat about the next housing lottery. Engaging online is truly a blank space for appropriate innovation that is student-centered. It gives us another way to reach students and build meaningful relationships with them.
What social media tools do you utilize to engage with your audience? Do students help run your departmental or organization social media accounts? What's your favorite way to engage in conversations on and off campus? Is your audience attracted to one platform over others?
We'd love to hear about your own distribution plan and how you plan to further engage your community on campus. Tweet us @HelloPresence.