It seems like wherever you look —  including your email inbox, social media, and office group chats — student affairs professionals are participating in and hosting online webinars.
The higher education world is chock-full of online conversations and webinars as professional development moves to the internet.
Perhaps you've thought about hosting a webinar yourself. Maybe you've come up with an awesome way to host virtual orientation, you're finishing up research on supporting students through CARE teams, or you want to share your expertise on campus e-sports with the world.
Hosting a webinar can be a great way to not only share information with other professionals remotely but to also bolster your resume, give you professional presenting experience, and allow you to network with professionals across the globe.
So, how can you host an awesome webinar? How can you build one from the ground up that will be engaging, well-attended, and free of technical difficulties? 
Here are some of my top tricks and tips.
6 Tips
1. Choose a great topic
Pick a topic you are well-versed in and passionate about. Look at trends in higher ed, challenges professionals are currently facing, or something you've done in that past that you'd like to share with the world.
2.Partner with others
Creating a panel for your first webinar can help increase attendance through the social circles of the other panelists, bolster the expertise in the (virtual) room, and help you shape the webinar's focus.
You could even consider partnering with a national or regional professional organization. Many professional organizations are looking for engaging webinars to host for their members as an alternative to canceled conferences and in-person workshops. For example, NASPA Region I has been hosting amazing guest webinars every Thursday, open to any interested student affairs professional whether or not they're a NASPA member.
Presence also hosts a happy hour webinar series, featuring student affairs professionals sharing their unique insights and tips.
3. Market, market, market
To attract a large audience, you'll need great marketing. Come up with an eye-catching virtual flyer (I recommend using Canva for an easy and free design), then share it in as many of your circles as you can, asking your co-panelists to do so, too!
Similar to advertising events for students on campus, the more platforms through which you announce your webinar, the more attendees are likely to show. Additionally, if your webinar is focused primarily on a specific group of professionals (such as res life pros or career advisors), make sure to also share your webinar within those circles.
Here is a list of places to share:
Social media: Facebook, Twitter, Instagram, TikTok, Snapchat, and LinkedIn

Utilize popular industry hashtags like #SApro, #SAchat, and #Prodev.

Groups: Share with national and regional professional groups, Facebook groups, and LinkedIn groups. 

Personal blogs and websites

Network: Utilize your network and ask other student affairs professionals to share your webinar with their coworkers and departments.

Professional organizations: Ask to have your collaborative event featured on their website, calendar, social media accounts, or member newsletters.

If your webinar is on a specific topic that coincides with an organization's knowledge communities, reach out to share with that knowledge community (for example a webinar on TikTok could be shared with a technology community).
You can also use surveys, polls, or quizzes on social media to generate interest in your webinar, gather data to guide your topic, and collect questions for the presenter(s).
4. Conduct a practice run
Holding a mic check before your webinar is essential for ensuring that everyone's technology is functioning well and to work out any bugs before the big day.
Here are some other factors to consider during your practice run:
Setup: Ensure that everyone presenting has good lighting and technology. Some hosts have started using the "change my background" feature on Zoom and RingCentral to hide personal belongings or highlight a part of their profession with a background of their institution's campus.

Pre-registration: Decide whether you'd like participants to pre-register. Is there information about participants you would like to collect or is vital to the presentation? Would you like to gauge who is in the audience before the webinar begins? If so, pre-registering might be a clever option, since you can request answers to those questions. Zoom makes this easy by offering

registration options

wherein you can ask joining participants any question of your choice. 

Guest limits: Decide if this webinar is best capped at a certain number of participants. Additionally, research whether your webinar platform imposes a limit. If you'll need to pay extra to allow in your desired number of participants, consider your webinar's budget and inquire about if your institution or professional association can support the cost through professional development funds.
Additionally, you should make decisions regarding the following questions:
Will participants be muted upon arrival?

What kind of introductions will be given for each panelist and/or participant, if any?

Will there be a formal conclusion?

Will you share slides and/or record the session?

How will questions be fielded, and how will you communicate this to participants?

Will participants be able to use the chat feature?

How will questions be answered if time runs out?
If applicable, be sure to share any data or info about the participants prior to the start of the webinar. For example, you could send out a pre-webinar survey to find out what percentage of participants feel they are lacking in a certain skill or competency area. You could also share factual information, like that 50% of participants are housing professionals. This can help guide the conversation in addressing participants' interests and questions,
Practicing the entire session with all panelists, from start to finish, is the key to holding a successful webinar. Additionally, you may want to recruit a practice participant to test out the chat feature, allow panelists to see how questions will be asked, and to give feedback on the overall participant experience.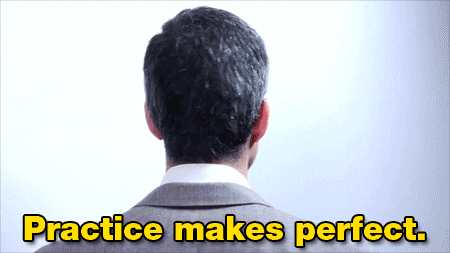 5. Present with enthusiasm and excitement
The day has come to share your expertise with the world! Whether it is a small niche webinar or a large overarching topic, here are some tips for the day of:
Have a moderator: A moderator is great for bringing formality to your presentation. Pick someone who shares your knowledge on the topic so they can best route or rework questions. Include the moderator on practice runs and allow them to get to know the presenters. This will help your moderator make educated game-day judgment calls about audience questions. Moderators can also mute participants, field questions in the chat, facilitate introductions, and offer up a strong conclusion or summary.

Mute everyone upon entry: If there is one lesson I learned pretty quickly from my first webinar hosting experience is that muting everyone upon entry is essential. Many folks who tune into a webinar will forget to mute themselves, leading to highly distracting noises.

Keep accessibility in mind:

Have text and audio

to support attendees who have visual or auditory impairments

and think intentionally about

font sizes and colors

.

Set the stage: Communicate learning outcomes and set boundaries to create a space that encourages honesty and vulnerability as applicable per webinar topic.
6. Follow up
As a profession, student affairs highly values assessment, evaluation, and research. So why not bring this into your own professional development? Evaluation can come in the form of a follow-up survey on what participants got out of your webinar and what lingering questions they have. This information can help inform opportunities for future webinars or further research. 
You should also record the webinar live and post it on YouTube or your website after to keep the conversation going. This will be helpful both for anyone who wasn't able to attend and for attendees who want to continue the discussion — whether it be with you, colleagues, or their institution. It will also allow the presenter(s) to add to their own professional portfolios and share their great work with colleagues.
Finally, provide your contact information at the end of the webinar for others to continue connecting and networking with you. As someone in a field that values interpersonal connections, encourage communication beyond the conclusion of your webinar. Participants can optionally share their contact info in the chat or you can follow up with your contact info after the webinar via email.
We know that holding professional development opportunities online isn't always ideal. But with creativity, resourcefulness, and hard work, you can build fulfilling experiences for shared professional growth.
Through a successful webinar, professionals across the globe will build skills, connect with others, and progress the knowledge base within student affairs. Whether you're hosting a webinar about working from home, virtual orientation, or TikTok, it will lead to increasingly improved experiences for students on their respective campuses.
What questions do you still have about hosting a webinar? Connect with us on Twitter @HelloPresence.