As I reflect on the past academic year, I would be remiss not to acknowledge the incredible challenges that parents and parenting figures have faced across the world. 
From lack of access to childcare, fear for their family's health and safety, and job loss, parents have done their best to keep all aspects of their personal and professional lives afloat. 
For me, this year of parenting was not quite what I expected as a mom. Last March, my husband and I made the decision to pull our then 18-month-old son out of daycare in hopes of keeping our family safe. Now, 15 months later, my almost 3-year-old is still home with my husband and me nearly full-time as we both work our higher education jobs remotely. 
Unless a colleague knew about my identity as a mother, they probably wouldn't have guessed that my son and husband were playing Magnatiles just out of the Zoom frame during my work meetings. I continued to work 40 hours a week and meet my deadlines, even when that meant staying up late and working weekends. 
I am just one of the thousands of higher ed parents working with chaotic childcare schedules like this. In my mind, parents are the real pandemic MVPs. But, unfortunately, I'm not sure most folks in higher education even realized what their colleagues who are also parents were up against.  
Although almost every SA pro physically isolated themselves throughout 2020 and early 2021, I'd venture to guess that most parents with young children, like me, felt an added layer of isolation as we learned how to balance remote work with caregiving. You can find endless digital content about the new type of burnout higher education professionals were encountering, but the extra burdens faced by parents in the field went largely unacknowledged.
Overall, higher education has made some progress in supporting student parents over the last several years. This is likely thanks to SA pros who have gone out of their way to make programs family-friendly or offer services like childcare and access to other basic needs for student parents. This is a prime example of celebrating and creating access for different identities among campus communities, moving us toward greater inclusion.  
(Side note: If you have student parents on your campus that could benefit from extra support, I encourage you to think of them as we wrap up this academic year and check out these great ideas.)
Fostering a campus community that's welcoming and embracing of all identities is only possible if that message is also true for employees. After all, how can SA pros create spaces of inclusion and access, if we don't feel 100% welcome ourselves? 
I'm not asking you to give gold stars or pats on the back to your parent staff; rather I'm imploring you to extend grace and kindness in new ways. Here are five ways to get started:
1. Acknowledge and create space for the parent identity 
Like many identities, the parent identity is not clear-cut. It looks different for all of us, and how we take on parenting roles looks different too. To truly support SA pro parents, our co-workers need to recognize this identity in a much broader sense and through a more intersectional lens than what might be defined through HR. 
SA pros may have become parents naturally, through adoption, or through foster care. SA pros may also play parenting roles for their younger siblings, nieces or nephews, or even neighbors. So, you should be mindful of the language you use when talking about parenthood. 
I'm not advising you to start invasively questioning your staff, asking them if they play a parental role in anyone's life. Rather, I recommend having broader conversations with your staff about important people in their lives or caregiving commitments they need to build into their weekly schedules. 
Most parents simply want spaces where we can talk openly about our most pressing and ongoing needs. You can create these valuable spaces for your staff through informal conversations.
Once you truly listen to your parent staff and begin to understand their needs, you should determine how your office can better support them. Then act on it.
If the pandemic has helped with anything, it's that we've discovered ways in which we can indeed be more accommodating to the needs of our campus communities. Flexibility is the name of the game for parent staff, especially when you consider that school and daycare drop-offs rarely fall within standard work hours.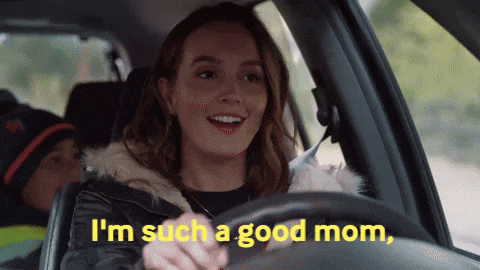 2. Switch it up by adopting a 9-3 schedule  
Try setting the expectation that your staff should be in the office, available for meetings and collaboration, from 9 a.m. to 3 p.m. Mondays through Thursdays. Then, allow your staff to decide for themselves how to structure the remainder of each week to work 40 hours. The 9-3 schedule allows for your entire staff to develop a work schedule that optimizes individual productivity. It also allows your office to guarantee consistency for the students you serve! 
For many parent staff, this schedule will be a gamechanger. It'll allow them to safely get their kids to childcare or school, and then to get themselves to the office with enough time to gather themselves for a successful workday. 

Ending formal meetings or events by 3 p.m. also provides the same flexibility for parent staff to get to after-school events or school pick-up. 
It is also no longer safe to assume that schools and childcare centers operate on a typical workday schedule. Providing flexibility for when an employee starts or stops their work day will allow you to better serve your parent employees. 
3. Gather team input on remote work ability 
Decide as an office what type of daily work and ongoing projects can be done remotely. 
Allowing your team to determine appropriate remote work projects and expectations says that you trust them to complete their duties. Plus, your team will feel more invested in making remote work successful and maintaining the flexible work environment you've created together. 
You could, for example, consider having staff host virtual evening office hours to meet with students who are unavailable during the day. Or, perhaps your staff could analyze assessment data from their home offices or catch up on their emails in the morning before they head to campus. 
Really, most individual projects could be done remotely. Think outside the box and have transparent discussions about what could be done in independent settings based on everyone's unique skills and preferences. 
4. Learn about resources available for SA pro parents 
Sadly, I've found that claiming your identity as a parent often leads to invisibility in higher education. You even convince yourself into thinking that your barriers and struggles are not as important given that SA pro parents make up only a small population of folks on your campus. 
I vividly remember being the only pregnant person on campus during my first pregnancy. Then, after my son was born, I remember worrying that I would be a burden for pointing out that the lactation room was poorly placed and required me to walk across campus to utilize. 
But I eventually realized that it would have made a huge difference if a colleague or supervisor was able to share resources for parent staff members with me. 
Knowing every resource available to parents on your campus is not necessary. But what is necessary as a good colleague or supervisor is taking the time to learn about what is and isn't available for your staff who have kids. It shows that you care about them as a member of your team and campus community. 
Even if you don't plan on ever becoming a parent yourself, consider perusing your employee handbook and learning about campus policies regarding parental leave, sick time, or access to affordable family healthcare. Take a walk around campus to see if you can easily find lactation rooms and family bathrooms. Inquire about family support groups or even family-friendly committees that you could share as resources to colleagues. 
Overall, the more you know, the better you'll be able to support SA pro parents.
5. Get Involved with the Family-Friendly Committee
If the first four tips I've mentioned here have got you thinking "wow, our SA pro parents aren't getting the support they need," then now is the time to act. 
The pandemic has disproportionately affected caregivers, causing many women to leave the workforce. To keep parents working in higher education and to support our professional success, campuses need to adapt and move toward inclusion of and flexibility for parents. 
Many campuses have a Family-Friendly Committee that focuses on designing campus policies and initiatives that will make the work environment more conducive to being both a rockstar SA pro and a fantastic parent. 
For example, the University of Missouri's Family Friendly Campus Committee worked to establish a Family Life Ombudsperson to assist students, staff, faculty, and supervisors have questions about policies, rights, or best practices.
Another example is at my own campus. The Family Friendly Policies and Practices Committee at the College of Saint Benedict/Saint John's University advocates for faculty and staff parents. Their work has resulted in remarkable changes on our campus, including a new Mother's Room in my office building!  
Whether you are a parent yourself or just care about your parent staff, consider getting involved with that committee! Committees are often an ideal platform for change on campuses.
Committees could explore initiatives like:
Policies regarding paid parental leave for birth, adoption, and foster care  

Adding more lactation rooms or family bathrooms to campus

Removing policies that ban children from campus 

Building a website that houses resources for parent staff and includes tips for supervisors who are supporting parents on their team

Reviewing healthcare coverage for maternal and child medical expenses 

Offering tuition remission to help cover childcare or schooling costs 
If these initiatives sound worthwhile for your campus but a committee doesn't exist, you can be the one to start it! 
---
As we prepare for a new academic year, I ask you to think more intentionally about how you can extend grace and kindness to SA pro parents by taking action with one (or more) of these tips. Like student parents on our campuses, parent staff bring uniquely valuable perspectives to our communities. They're worth celebrating and supporting. 
How else do you aim to support parenting coworkers? How else would you like to be supported as a parent? Continue the conversation with us @HelloPresence and @lindseyggutsch.