Earth Day is an annual event celebrated around, well, the earth. Each April 22, organizations and individuals demonstrate their support of environmental protection and environmental justice and raise awareness on efforts to slow climate change, reduce waste, and build sustainable communities.
The United States is the second-largest contributor to carbon dioxide in the world, even though it only accounts for 4.4% of the global population. Fortunately, with the right tools, information, and resources, campuses can educate students to be environmentally responsible citizens. 2021's Earth Day theme, Restore Our Earth, could inspire endless opportunities for student involvement. 
Take a look at these 36 activities that can help you start and continue productive conversations about the environment — on Earth Day and all year round.
36 Programs
1. Participate in a local cleanup
EarthDay.org has an interactive map that can help interested students and SA pros find cleanup projects happening in communities around the world. They also provide the opportunity to list your own cleanup and to submit your results for recognition.
2. Host a Plogging 5K
Plogging refers to jogging while picking up litter, merging the Swedish verbs plocka upp (pick up) and jogga (jog). Provide students with biodegradable trash bags and recognize both the fastest finisher and the student who picked up the most litter with awards.
3. Volunteer with a local environmental advocacy group
There are numerous local and national environmental nonprofits seeking volunteers and donations. Find one that will allow students to volunteer through cleanups, blogging, lobbying, or utilizing other skills or talents. 
4. Start a fundraising drive for The Canopy Project

The Canopy Project is a notable non-profit to support on Earth Day. For every dollar raised, Canopy Project volunteers plant one tree. Since 2010, The Canopy Project has planted over 10 million trees.
5. Celebrate Earth Day on your social media accounts
Use social media to remind students of Earth Day. For inspiration, check out these awesome Instagram accounts that share thought-provoking advice on sustainability and waste reduction. EarthDay.org also has graphics you can share to highlight the Restore Our Earth theme.
6. Invite students to learn about bees
Earth Day's latest Global Earth Challenge asks participants to collect data on local bee populations in order to help scientists understand how these populations are changing. Students can also learn about bees through a free MOOC, this list of fun facts, or even through a screening of a documentary about bees.
7. Hand out sustainable snacks
Food production is responsible for approximately 26% of global greenhouse gas emissions, and many grab-and-go snacks contribute to this. Check out this list of 11 sustainable snacks your office can stock up on and hand out to students instead.
8. Provide students with reusable containers
Food production emissions seem even more startling when you also consider that 30-40% of the US food supply goes to waste. Reusable containers can be an inexpensive way to encourage students to save leftovers, prevent waste, and stray away from single-use packages.
9. Educate students on environmental literacy
Team up with academic affairs to discuss ways of weaving environmental literacy into degree requirements, courses, or orientation programs.
10. Revitalize recycling opportunities
Recycling is a way to go green in almost every department on campus. Check out this list of 11 best college recycling programs for inspiration on recycling used furniture, food waste, and even fluids from campus vehicles.
11. Start composting
Scrap materials and leftovers can be easily decomposed into high-quality compost rather than going into a landfill. The US Composting Council has resources available specifically for colleges and universities, and check out this guide on clever ways SA pros can initiate composting on campus.
12. Identify environmental concerns around campus
Environmental concerns go far beyond what can be solved by reducing, reusing, and recycling. Check out this list of commonly overlooked environmental issues that your campus may be ignoring.
13. Go meat-free for a day
Meat and dairy account for around 14.5% of global greenhouse gas emissions. Coordinate with your dining services to offer meatless and dairy-free options beyond the typical vegan or vegetarian selections. Additionally, sourcing local produce and utilizing climate-friendly recipes can also invite more conservation conversations to the table.
14. Start an innovation competition
There are many environmental innovation competitions, ranging from filmmaking to robotics, writing, and more. You could even start your own in-house competition by collaborating with your campus's environmental engineering, agricultural, or art departments.
15. Install water bottle refilling stations
Water bottle refilling stations help reduce the public's reliance on disposable bottles. You could even include a display that shows how many bottles have been refilled! Team up with student government to identify locations on campus that would most benefit from a water bottle refilling station.
16. Cut ties with companies that dispute or deny climate change
Many campuses have begun to fully or partially diverge from climate-denying corporations. In 2017, Barnard College became the first American college to fully divest by pulling $18 million out of fossil fuels and investing in more sustainable industries.
17. Take a clean energy quiz
EarthyDay.org has tons of fun, informative quizzes — on environmental literacy, ocean pollution, clean energy, and more — that you can use to test students' environmental knowledge. Challenge students to take these quizzes via your social media accounts and share their scores.
18. Offer alternative transportation
Campus shuttles, bicycle stations, and even motor scooters have become significant modes of alternative transportation, helping campuses lower their emissions and to tackle parking shortages. You could chat with student government leaders about the transportation needs of students and what would work best on your campus.
19. Challenge students' carbon footprints
Footprint calculators are a great way to reveal to students how much waste and carbon emissions they are producing each day, month, or year. This can then open up the conversation about how to reduce their carbon footprint and spark a social media challenge on who can reduce their carbon footprint the most.
20. Host a trivia night
Make a Kahoot or Jeopardy-style trivia game using the latest facts and figures on climate change, deforestation, endangered species, or environmental justice. Look into branded swag for prizes that promote conservation, such as reusable totes, water bottles, or lunchboxes.
21. Trade plastic bags for reusable bags
With so many plastic bags ending up in oceans and landfills, eight states have banned these bags or are charging customers for each one. Similarly, you can trade students a branded reusable tote for their plastic bags, which can then be recycled at select retailers.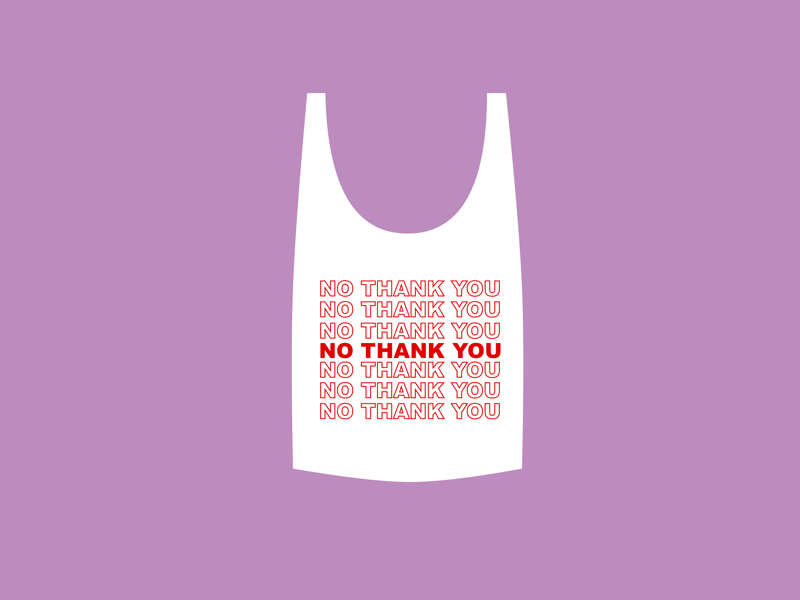 22. Go pesticide-free
Pesticides are a major contributor to climate change as they disrupt ecosystems and produce greenhouse gases. Take a look into swapping out pesticides used on your campus with eco-friendly alternatives. Encourage student government to take the lead in lobbying with your campus' facilities department.
23. Host a farmer's market
A farmer's market can be an innovative way to invite local vendors to campus, encourage students to shop local, and provide students with opportunities to purchase fresh groceries. Check out the markets at Cornell University and Emory University for inspiration.
24. Start a campus garden
Campus gardens are being utilized as both hands-on classrooms and as solutions to address food insecurity. At the University of Connecticut, students can live on the Spring Valley Student Farm and  grow crops for campus dining.
25. Display art focusing on environmental issues
Invite student artists to share art that's focused on environmental issues in your student union, art gallery, or even in digital spaces, such as social media and newsletters. For visual works, invite students to provide a caption explaining the piece's connection to the environment. Or students could record performance art, such as poetry readings or dance choreography. 
26. Hand out pro-environment stickers and pins
Check out these adorable environmental-themed accessories your students will want to wear with pride or consider designing your own through a social media contest. Perhaps you could even by collaborate with the student artists from the previous idea!
27. Play TED Talks and podcasts focused on environmental issues
There are so many great environmental TED talks out there, but Rahwa Ghirmatzion and Zelalem Adefris's "Community-Powered Solutions to the Climate Crisis" is particularly powerful in explaining how individual communities can make a difference in fighting climate change.
28. Start a 30-day sustainability challenge
30-day sustainability challenges have popped up all over social media. Share one to encourage students to complete small tasks each day towards reducing their carbon footprints. You can also share a special challenge for Earth Day, spread a hashtag specific to your campus, or reshare photos of students participating in the challenges.
29. Highlight environmental resources on campus
Earth Day can be the perfect opportunity to remind students of the environmental resources they can utilize on campus year-round— such as recycling centers, community gardens, and composting bins. 
30. Host an environment-focused movie night

Check out this list of 10 movies that highlight the climate crisis. As a bonus, facilitate guided discussion afterward.
31. Invite an activist as a guest speaker
Invite a guest speaker to chat about how they have defined their work as an environmentalist and to inspire students to make a difference themselves. Alternatively, you could invite an agriculture or environmental sciences professor to chat about the latest research on climate change.
32. Start a book club focused on environmentalism
Books are powerful catalysts for discussion. Check out this list of 13 awesome books on environmentalism, including fiction, non-fiction, and guide books. Instead of ordering physical books, consider saving paper and money by reading e-books instead.
33. Host a recycling workshop
Encourage students to learn more about waste reduction. There are many awesome resources online you can use to help students understand what can and can't be recycled. Or you could invite a recycling expert, such as a local government official or waster manager, to speak about your local area's restrictions and procedures.
34. Host a junk art night
Trash or junk art takes items that would have been thrown away and turn them into art. Encourage students to tap into their creative sides through a social media challenge or even auction off items and donate the proceeds to a local non-profit.
35. Encourage students to participate in political advocacy

Donating time, energy, and resources to important political issues is a great way to advocate for the environment locally and beyond. You can encourage students to focus on policies related to recycling, pollution, pesticide usage, and more.
36. Start an environmental advocacy group on campus.

If your campus doesn't already have one and students are excited about environmental activism after trying out some of these awesome activities, consider encouraging them to start a chapter of a national or international environmental advocacy group  — such as a Soil & Water Conservation Society, Greenhouse Club, or an Ecogardening Club. 
For more resources on supporting environmentalism on your campus, check out these campus sustainability tips.
Have an amazing idea that's not here? Share it with us on Twitter @HelloPresence.