Student affairs conference season is here!
Whether you're attending ACPA21, NASPA Virtual, or another opportunity for professional development, you know that there are some great presentations waiting.
You may even be presenting yourself, adding a wonderful accomplishment to your resume and creating a great opportunity to network and show off the work you've accomplished.
However, no matter how exciting or innovative the presentation's topic may be, a poorly executed presentation can leave the audience zoning out, taking a snooze, or refreshing their Twitter feeds.
So, I consulted Liam Rice, the most energetic and enthusiastic presenter I know. When he's not presenting at conferences and hosting webinars, Liam's the assistant director of student conduct and a resident director at Emmanuel College. 
Some of his favorite conference presentations have included "Did You See This Tweet?" and "Tag Me In That." Liam is a veteran presenter at NASPA, the Residential College Symposium, and the 413 Area Conference.
We hope that these ideas inspire you to liven up your next conference presentation and make it a truly outstanding experience for all participants!
1. Start with a story
A compelling story can immerse your audience in the topic by tapping into their emotions. Your story can act as a hook to pique their interests and be referred back to later in your presentation. 
Liam started a recent presentation about student conduct in the digital age by sharing a dilemma he faced with his office's Instagram contest modeled after MTV Cribs. He was thrilled when students began taking part in the contest, but sharing these submitted photos with his coworkers in the conduct office posed a major problem, as some students' photos showed prohibited items in the res halls. 
This story painted a picture of an ethical dilemma many SApros are all too familiar with, reeling in the audience through a story they can relate to.
2. Bring the energy
The first thing conference attendees will notice about your presentation is the energy you bring to it. Talk with enthusiasm, use animated body language and motions that show how excited you are, and don't be afraid to add emotion to your voice. 
Enthusiasm is contagious; people can't help but get excited when they're around other excited folks.
3. Be authentic and have fun!
Speak as though your topic is the most exciting one being discussed that day, even if it most certainly isn't. Audiences, whether in-person or online, can tell when a presenter is genuinely excited about their topic. Showcase your enthusiasm and be animated to show how exhilarated you are to present on this topic.
If you can't convince yourself that your presentation is worth sitting through, then your audience won't be convinced either.
4. Incorporate a unique theme
Themes can be a great way to spark interest in your presentation. For example, at the 2018 and 2019 NACADA Annual Conferences, the presentations that drew the largest audiences and garnered the best feedback used Harry Potter metaphors to talk about advising. 
"The Magical World of Academic Advising: Advising Styles and Personalities Unite!" even sorted advisors into their respective houses based on their advising styles! 
SlidesMania has lots of great PowerPoint templates that may inspire your theme, ranging from "Breaking News" to seasonal and holiday slides and even a comic book style slideshow.
5. Have a flashy title
One thing I love about Liam's presentation style is that his titles tell you about the subjects without sounding like dissertations. You can attract a large audience with a title that asks a thought-provoking question, utilizes alliteration, or features a play on words.
Your title could even promise benefits and a story. For example, rather than "How to get students engaged," try "How a small STEM-focused college got students reconnected with their love of the arts".
6. Reach out to your institution's marketing team
Although you might be fatigued from seeing your school's branding everywhere, having a professionally designed slideshow template for your presentation can make it more aesthetically pleasing to viewers.
Most marketing departments will be delighted to help given that conferences are a great way to showcase your institution's accomplishments. Start by heading over to your marketing website to find color codes and logos, perfect for showcasing your institution in the right way.
7. Don't be afraid to laugh and smile
Although conferences can feel very business-like, having a chuckle with your audience can help ease your own nerves. Humor is a great way to break the ice if you'll be diving into discussion questions or a Q&A, and it will keep the audience engaged.
But, you should also be attentive to when seriousness is required. A presentation can include both serious and humorous tones, but always remember your audience and how they may perceive the topic at hand. Use humor only when it makes the most sense and sets an appropriate tone.
8. Focus on your flow
Having a rhythm to your presentation is a surefire way to build structure and keep the audience engaged. When preparing your presentation, think of your outline as a poem, a song, or a story with a beginning, middle, and ending. Building in your pre-planned rhythm provides anchor points so that you'll remember what to share that isn't written on a slide.
9. Show don't tell
A screen full of text will quickly put any audience to sleep. Although some presenters may be tempted to start with a large photo, without a caption, to pique their attendees' interest, Liam recommends using both images and text in each slide. That way, you're being mindful of accessibility while simultaneously avoiding a wall of text.
10. Bring props
Bringing a prop or two along can aid you in visually telling your story. A prop is an eye-catching way to hone in your audience's interest. It should not just be an irrelevant addition to a speech or a distraction but support the content and delivery. Props can come in the form of your clothing, scents, sounds, and so much more.
11. Use multimedia wisely
It can be tempting to throw in a short Tiktok, Youtube video, or a funny meme to keep your audience engaged. But make sure you explain the connection between the multimedia and your presentation immediately before or after you show the video or picture.
12. Keep accessibility in mind
Make sure that all audience members will be able to engage with any multimedia elements of your presentation. Microsoft recommends including alternative text with visuals, making sure content can be read in the order you intend it to, and using contrasting colors for texts and backgrounds. 
Many Office and 365 products have an Accessibility Checker to help you double-check that your presentations and materials are accessible. You may also want to seek feedback from your accessibility services office.  As Liam puts it, "You can't engage in a presentation if the presentation isn't accessible to you."
13. Incorporate participation and interaction
Keep your audience alert and engaged by asking survey questions, building in icebreakers, having breakout rooms, and utilizing other interactive elements. Studies have shown that interaction increases audience attention, interest, and retention of presented materials.
But remember to keep these interactions purposeful. As Liam puts it, interaction for interaction's sake is not always helpful. For example, a well-intentioned "how is everyone doing today?" survey uses up valuable minutes that you could have spent presenting important information. Make sure your interaction elements directly connect to your topic.
14. Build in technology
Technology has drastically changed the ways in which presenters interact with their audiences. Many presentations have begun using hashtags so that audience members can live-chat with each other on social media, incorporated audience response systems for live surveys, and even used interactive graphic builders such as text-to-build word clouds.
15. Market yourself
Before your presentation, make sure to market yourself well through a thought-provoking excerpt in the conference's presentation menu, on social media, and even through word-of-mouth within your social and professional networks. Not only will you attract a larger audience this way, but you may find greater interaction during the presentation from audience members who are interested in what you have to say before they even enter the conference room. 
Liam markets his upcoming presentations on all of his social media platforms, posting on LinkedIn, Twitter, Instagram, and Facebook. He will also tag associations, knowledge communities, and departments related to his upcoming presentations.
16. Keep the fun coming
Even if this is your twentieth time repeating a presentation, don't lose your enthusiasm. Review your slides beforehand to consider if new information can be added as trends and issues in higher education change. Customize your presentation to each audience to best fit the conference theme and the audience's roles or level of experience. Remember that each and every time you present is the crowd's first time seeing your presentation.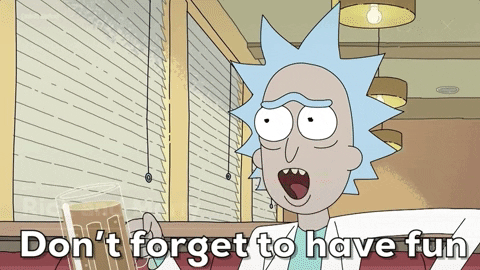 I hope that you have found some of these tips inspirational in revamping your next conference presentation!
What are some of your favorite presentation tricks and tips? Connect with us on Twitter @HelloPresence.
For more tips on professional development, check out 4 Steps for Getting Involved with Student Affairs Associations Remotely.
How do you make your conference presentations shine? Share it with us on Twitter @HelloPresence.