Impractical Jokers. Punk'd. What Would You Do? Candid Camera. We love to see life through the eyes of others, particularly when they're put in unexpected or surprising situations.  
But whether it's in line at a bank, or trying to rebook a flight at the airport after yours was cancelled, you've probably also had experiences that make you wish that the situation you'd encountered was a set-up. What would you do if you discovered that interactions with your office felt that way?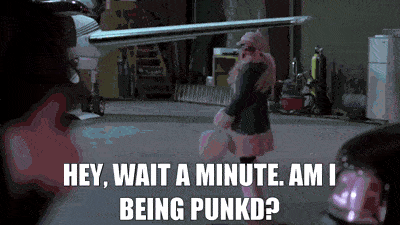 I recently explained the importance of journey mapping as a tool to better understand how a student interacts with your office and your programs. This approach is effective at identifying inefficiencies in the process as well as the emotions that map to the students' experience, but it might seem like a lot to take on. Or at the beginning of the semester, right after you've concluded staff training and preparation for a new year, it might not seem like a tactical enough tool to use.
Determining the current state of the problem is critically important, so you're right to pause and think before jumping in to change your processes — especially at the risk of developing a student journey map on bad insight from students, making your map not accurate at all! The best place to start is at the beginning, and in this case, you can take advantage of the "reset" that comes with the start of a new academic year to collect some insightful data about a students' experience with your office.
To begin collecting data about how students experience interactions with your office, try enlisting "secret shoppers," or students selected to interact with offices across the campus and share their experiences in the effort to provide greater insight about the process and quality of an office's service. While we've seen a few examples highlighted here and there, secret shoppers are not a tool used frequently in higher education settings.
Prepare for a secret shopping program:
Outline the goals that you want to accomplish by integrating secret shopping into your work:

What are you looking to achieve? Is is improved customer service? Continuing to help staff develop? Reevaluating your office processes and protocols? How do you measure or assess the quality of these areas today?
Match artifacts to collect data to your goals:

With your goals in mind, consider the best way to collect information about students' experience. Will quantitative data tell the best story, or will students sharing their experience be more effective to meet your goals?
Let your team know what you're up to:

Share your pursuit of secret shopping without telegraphing your approach. Whether it's outlining a specific timeframe and letting a few weeks go by, or emphasizing that it's a learning exercise, make sure that your team won't be worried or on "high alert" to your secret shoppers. It has to be clear that the goal is improvement and growth, not discipline.
Identify students and staff:
Make it easy to participate:

Find students or staff that fit the type (or types) of "customer" that frequently interacts with your office. Offer an incentive like gift cards or a pack of swag for spending their time sharing feedback to improve your team's work.  Make it clear how you want secret shoppers to get involved, what their role is, and what you're looking for from them by being part of a secret shopping experience.
Give clear direction about what to look for, without being prescriptive:

You never know how things could be improved if you don't ask, and students might need some direction around what they should be sharing feedback about, particularly if they don't do it often. Using scales and open-ended questions give space to share feedback around the areas that are your highest priorities.  But be careful not to give too much direction —

sometimes it's the organic breadcrumb of feedback that offers a deeper insight on how things can work better.

This guide

on the right questions to ask when creating an experience map is be a great place to start.
Give them the materials to document their experience:

Hidden cameras aside, the tools you share with students to document their experience will make all the difference to develop the artifacts to effectively. Sometimes this might be a quick paper survey with a Likert scale, others it might be a video diary that they record immediately after with a set of accompanying processing questions.
Use what you learn to improve your staff performance:
Emphasize building a culture of improvement:

By framing the feedback you hear or identifying the processes to improve in a growth mindset, you reinforce your original goal of making mistakes and learning from them along with celebrating great performance and build a level of comfort with a culture of being "shopped."
Reinforce training teaching points:

When learning moments do surface, use them as opportunities to reevaluate your current training process, or to reinforce the training that you do already with your team to create a better experience for everyone. Consider the

best way to give feedback

to your team to help them grow professionally.
Quantify the difference before and after changes are made:
We spend a lot of time talking about the importance of measuring the student experience. When you're seeking to improve processes through feedback, considering how you measure and quantify the impact of adjustments is especially important.
It's hard to quantify the impact of programming without using a software tool that compiles and distributes data into realtime graphs and charts. For example, student engagement software (like Presence) has the ability to sift through data from programs that you care about, like feedback on student loyalty, how many first-time attendees showed up to an event, and tracking what engagement looks like for students who are at-risk.
Secret shopping can be a fun and effective way to get a look at your department through your students' eyes. The insights you gain can help to reframe your work, refresh your perspective, and help you improve both student experiences and the way people perceive your office. 
Have you used secret shoppers on your campus? We'd love to hear about the experience — talk to us on Twitter @HelloPresence and @BrianFLeDuc.